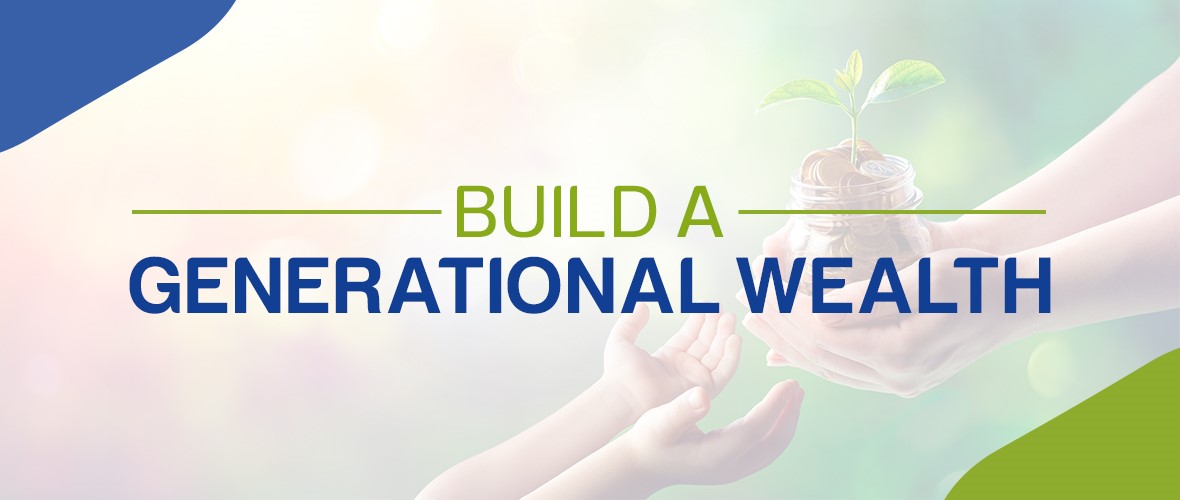 Ways You Can Build Generational Wealth
Everyone wants the best for their families, and what greater present to give our children than financial security when we are gone? In a country where even those earning six figures may be living paycheck to paycheck, generating not just a nest egg for your children but a sustainable bequest might be daunting. However, with the right planning, you too, can create wealth that will last and grow for future generations while also learning how to save money.
But, before proceeding further, let's give you a quick overview of what generational wealth means exactly.
What Is Generational Wealth?
Generational wealth means leaving an inheritance for the next generation, like your children or grandchildren. Sometimes, this is referred to as family wealth or even a legacy.
Anything having financial worth passed down from one generation to the next is considered generational wealth. This wealth has numerous forms, like real estate properties, stock market investments, or even intangible assets like financial education.
Why Is It Important?
Generational wealth is crucial since it may give your family a financial edge. For instance, many people have experienced being forced to do things or work jobs they hate because they need the money.
But suppose your children or grandchildren received a financial advantage early on in their life. In that case, this could help them pay for their university or college education alleviating the need for student loan debt. That creates a significant advantage for young adults starting their practical life.
Now, with the basics out of the way, let's look at how to build generational wealth.
Ways To Build Generational Wealth
· Focus On Your Child's Education
Creating lifelong wealth necessitates more than just financial assets. If you want your children and their families to be self-sufficient, you need to invest in their education.
With the proper education and understanding of personal finances, they'll be easily able successfully to manage the money they inherit.
If not anything, with their skills and education, acquired over the years, they'd be able to make it on their own if the wealth they inherit dries up for any number of reasons.
· Invest In Property
Investing in real estate is another viable way to create generational wealth. Real estate is a solid wealth-building opportunity for investors with the potential for steady cash flows and increasing values over time.
While building a real estate empire seems intimidating, there are other options, such as selling your home, renting it out, or buying another property.
Aren't exactly sure how to begin the process? Take a look at our real estate programs to learn more about investing and growing your real estate portfolio.
· Purchase Budget Life Insurance
Life insurance is among the best methods to give your family a substantial financial cushion if you were to die. If you have children or dependents relying on your income, they might be forced into less than ideal financial circumstances.
Losing a loved one is difficult to cope with, but having a financial cushion may alleviate their stress by guaranteeing financial security.
· Save Money
Building up your savings is another simple strategy to create generational wealth. And while it may seem simple, not everyone does it as everybody is too busy swiping their credit cards.
The simplest approach to growing your savings is to put money into savings and investments as soon as you get your paychecks. This way, you don't waste your money spending on unnecessary purchases and can build up your savings much faster.
Conclusion
As you can see, you don't have to have a fortune to leave something behind for your children. Instead, there are several methods to build your assets and pass the gift of financial independence to future generations.
Ready to begin your journey of building generational wealth for your loved ones? Our financial experts at Budget University Online can help you navigate that route by devising a financial management course. Visit today!
please login.